Beam Intensity Monitor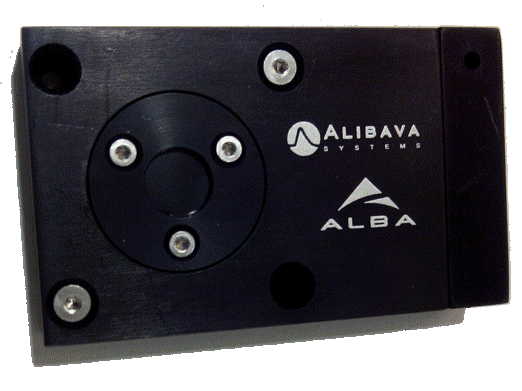 Transmissive photodiode: DDS1- XXX/X
The DDS1 photodiode is used for diagnostic X-ray applications
P-on-N silicon detector

Two available square active area: 5x5 mm2 or 10x10 mm2

Thickness: 10 μm

Very high transmission in a wide range of energies

No external voltage is needed for operation

Dimensions: 41x68x12 mm3


Easily mounted in experiment

The beam intensity is measured by output current

Depletion layer thickness (bias = 0): 7 µm
General Features
DDS1 photodiode is based on a Silicon detector fabricated on a 10 μm thick substrate. Because of the low noise (dark current, in the pA range), very low radiation intensities can be measured reliably. Si photodiode has good responsivity uniformity and provides a good stability after burn-in.
Specifications (electro-optical characteristics at 25ºC)
Model No.

Active area

(mm2)

BreakdownVoltage(1)(V)

DarkCurrent(2) (pA)

CapacitanceC(2)

(nF)

ShuntResistance

(MΩ)

SensitivityS(3)

(A/W)

Max storage Te(oC)

AS04-110A

10x10mm2

68.9

16.7

1.20

0.275

230

0.035

80

AS04-105A

5x5mm2

28.1

14.6

0.13

0.123

420
(1): 1 µAReverse current, (2): measured at 0V, (3): measured at 8 keV
Experimental results
Wide energy range. Transmission level above 80% at 8 keV and 94% at 12 keV.
Responsivity uniformity better than 5% inside the active area.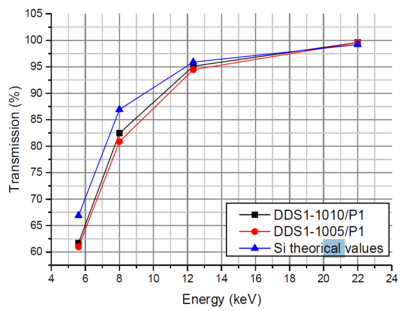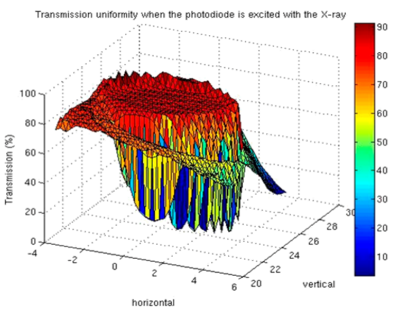 Drawing - packaging

5x5 mm2 and 10x10 mm2 Si photodiode

Accessory P1 (optional)

Two Lemo connected(ERN.00.250.GTL)

Actived area limited to 50.25 mm

2




Two interchangeable kapton windows




Nomenclature

The photodiodes follow the below nomenclature.

All part numbers start with:

[chip area]mm2

[optional packaging]

[]

Value

[]

Value

1010

100

P1




1005

25









Typical applications

Diagnostic X-ray applications and real-time X-ray beam position monitor for synchroton beamlines

Application circuit:



Further information
Other specifications are available on request
This product is sold under license of Spanish National Research Council (CSIC) And Alba Cells Synchroton (Spain)
Rev. 2.1 specifications subject to change without notice